Tillmann Liedtke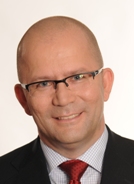 Tillmann Liedtke, Consultant, Coach and Manager
The hotel manager and native Hanoverian started his career at the InterContinental Hotel in Cologne and Düsseldorf. He learned the basis of commercial operational business, from scratch as a reception cashier, night auditor and as an accounts receivable accountant.
At the Parkhotel Velbert in Düsseldorf, as well as at the Haenisch Schloss & City Hotels in Ludwigsburg, Liedtke was responsible for financial accounting as a commercial director. Further posts were at the Vila Vita Hotel GmbH, the Senator Hotelgesellschaft in Jena, and the Bochum Hotelgesellschaft, where he gained experience as head of accounting. In 1997, he moved to the unitels consulting GmbH, Eschborn, as a consultant with commerce being his area of responsibility.
His appointment as managing director of unitels consulting GmbH followed in the year 2000.
At the end of 2004, Liedtke founded the RHC Real Hotel Controlling GmbH in Cologne.
Tillmann Liedtke is your contact person for:
– Procedure and business organization (management, controlling, coaching)
– Accounting in the hotel industry
– Cash flow management
– Coaching of companies and people
– Earned value analysis
– Accounting services
– Hotel and location analysis
– Payroll accounting
– Personnel management
– Tools (budgeting, forecasting, reporting)
– Software for finance and asset accounting
Phone: +49 (0) 2203-96 555-0
Fax +49 (0) 2203-96 555-11