Nicolle Dellemann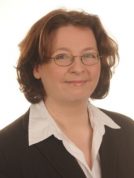 Nicolle Dellemann, Accounting Service Hotels
Nicolle Dellemann, is a business graduate for tourism. After graduating from 1994 to 1999 at the University of Applied Science Harz, Wernigerode, she was strongly determined to go into financial controlling. She started her professional career in the spring of 2000 at the headquarters of the Steigenberger Hotel Group (Frankfurt/Main) as a specialist in financial accounting.
At the end of 2003, Mrs. Dellemann changed position and corporation, and became a controller / human resources manager at the Courtyard by Marriott in Eisenach.
A good three years later in early 2007, she was responsible in financial controlling at the Courtyard by Marriott in Graz (A) and thus gained valuable experience abroad. Since early 2009, Mrs. Dellemann is back from Austria and joined the RHC Real Hotel Controlling in accounting service hotels.
Phone: +49 (0) 2203/96 555-17
Fax: +49 (0) 2203/96 555-2217