Janine Kralemann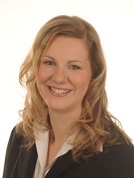 Janine Kralemann, Accounting Service Hotels
Janine Kralemann is in the accounting service of the RHC GmbH since November 2011.
After studying business administration with a focus on hotel and event management, followed in September 2006 the degree as business administrator (BA).
She gained practical experience from 2006 to 2009, working with front office tasks at the Four Points by Sheraton Central Cologne, and then was promoted to assistant front office manager.
From 2009 to 2011, she worked as administrative assistant at the Grand Hotel Schloss Bensberg.
Email Janine Kralemann
Phone: +49 (0) 2203/96 555-27
Fax: +49 (0) 2203/96 555-2227